Welcome!

Welcome to the DanMachi Wiki, a wiki dedicated to the DanMachi, Sword Oratoria, and Ryuu Gaiden light novels by Oomori Fujino and the manga and anime produced from it. This is a wiki where everyone can help out by adding and editing articles! The wiki currently has had 33,982 edits over 600 Articles with 2,019 Images and has been expanding since July 24, 2014.
Featured Article
The Hermes Familia is an exploration type Familia led by Hermes with the Perseus Asfi Al Andromeda as their captain. This unique Familia will do whatever it takes to make money. Trusted by the Guild to enter and exit Orario, they've even amazed Ais Wallenstein with their combat ability.

Latest Volumes and Chapters
Latest Volumes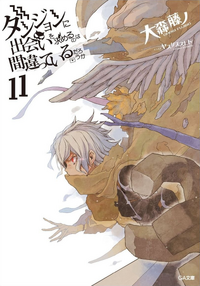 DanMachi
Light Novel Volume 11
October 15, 2016

The Little Rookie's reputation has fallen-
Bell lost the trust of others as a cost for saving Wiene.
The boy is wounded and is distressed in the gap between ill will and disappointment. However,
"Don't hesitate. You still have what you'll never lose around you"
Supported by the bonds of encounters, the boy rises with his companions with newfound determination.
The labyrinth city becomes a battlefield again, this time to return the Xenos to the dungeon.
Standing in their way is the strongest Familia in the city, the Loki Familia.
The sage's wisdom, the hero's plan, the Gods' intentions, and when the black beast roars, the boy's spirit will return.
"I want...to get stronger" (Learn more...)
Sword Oratoria
Light Novel Volume 6
June 14, 2015

"A momentary rest for fighting girls! Lake bathing instead of sea bathing!"
The Loki Familia goes outside of Orario!
After returning from their latest expedition, Ais and the others head to the port city of Melen to search for the second entrance to the dungeon.
Avoiding attempts from an ulterior motive filled Goddess, the girls rest at a blue lake.
However, a ship from foreign lands brings trouble to the town.
The Familia of the Goddess of fighting and slaughter, the Kali Familia.
Tione and Tiona's unpleasant fate. Amidst the threatening shadows, the twin sisters come face to face with their vexing past.
"I want to see the future of fighting" (Learn more...)
Poll
What are you hyped for the most?