Welcome!

Welcome to the DanMachi Wiki, a wiki dedicated to the DanMachi, Sword Oratoria, and Familia Chronicle light novels by Oomori Fujino and the manga and anime produced from them. This is a wiki where everyone can help out by adding and editing articles! The wiki currently has had 74,099 edits over 818 Articles with 2,762 Images and has been expanding since July 24, 2014.
Featured Article
The Hermes Familia is an exploration type Familia led by Hermes with the Perseus Asfi Al Andromeda as their captain. This unique Familia will do whatever it takes to make money. Trusted by the Guild to enter and exit Orario, they've even amazed Ais Wallenstein with their combat ability.

Latest Volumes and Chapters
Latest Volumes
DanMachi
Light Novel Volume 13
February 15, 2018

"The Bringer of Destruction"..."The Promised Elf"...Elf? Is this about the Gale?
The bad news of the murder is brought to the city on the 18th Floor. The culprit is the blacklisted Gale.
Unable to believe their ears, Bell and the others begin looking for Ryuu to clear her name, and at the same time Cassandra sees her worst prophetic dream.
A 17 passage prophecy is given.
The fulfillment of the prophecy is the death of their beloved companions.
Stricken with despair, the tragic prophet begins her lonely battle against destruction.
And when the boy searching for the truth encounters the Elf burning with the black flames of revenge, an unprecedented disaster gives its first cry! (Learn more...)
Sword Oratoria
Light Novel Volume 10
May 12, 2018

The Sword Princess anguished and the Braver resolved himself.
"If someone cries because of monsters - I'll kill monsters"
And so, "the day" came.
An opportunity of fate arrives for the Loki Familia looking for a "key" to the man made labyrinth, an abnormal situation that brings turbulence to Orario. As various forces become involved because of the "armed monsters" on the surface, the long awaited hero will fall - and a new fool is born.
The Sword Princess anguishes.
The Braver resolves himself.
Amidst the battle concerning people and monsters, various feelings will cross at the stage of the decisive battle, the labyrinth city! (Learn more...)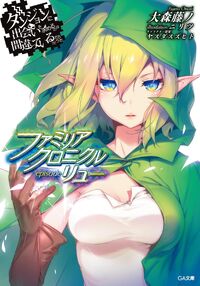 Familia Chronicle
Episode Ryuu
March 13, 2017

This is a chronicle of history that a God's children spin-
"The person who bought Anna Claes is associated with the casino"
As usual, trouble occurs at the Hostess of Fertility, the place where the skilled former adventurer Ryuu works.
Upon learning that a certain couple's daughter was kidnapped, Ryuu begins investigating in the name of justice.
What she reached was the labyrinth city's extraterritorial area, the casinos.
In the midst of the golden city where peoples' desires swirl, the Gale's roar breaks out!
"Raise your voices! This is a place where you laugh and eat food!"
Also included is the story of the pub's beginning! (Learn more...)
Poll
Who would you like to have as your captain?