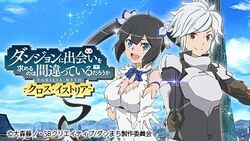 DanMachi Cross Istoria (ダンまち-クロス・イストリア-) is a game released for mobile. It was released on December 3, 2015 for Gree and July 28, 2016 for Mobage and PC.
Information
Edit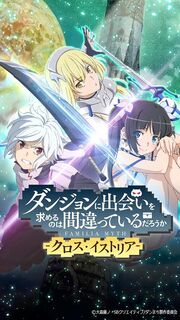 The main point of the game is to collect cards of various characters from the series, such as
Bell
and
Ais
, and use them to fight against raid bosses and in other functions.
The My Page is the main page of the game. It contains links to multiple things such as a message box, gift box, event banners, and the player's own status.
Cards are divided into three types:
Power
(力),
Speed
(速),
Technique
(技). The player starts out with a set amount of cards given to them. Players can edit their decks to increase their statuses and increase the stats of individual cards by training them or levelling them. There are several different types of rarity such as ☆3, ☆4, ☆5, ☆6, ☆7, and ☆8. Card designs are either original, reused scenes from the anime or light novel, or drawn by the manga artists.