DanMachi Volume 12 will be released on May 25, 2017. All spoilers should be posted here. Feel free to discuss the volume in the comments below
DanMachi has now reached over 8,000,000 copies!
Note: Don't read anything below the summary if you don't like spoilers
Summary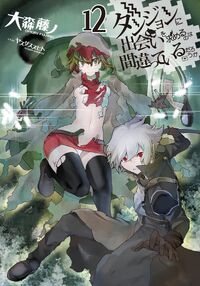 And so, the boy begins to run again.
Bell grew after the fight to the death with his rival.
Rank ups, the Denatus, and aliases. While he gathers the attention of people, Gods, and others in Orario, a single letter is brought to him.
"A mission...an expedition?"
Bell Cranel has "qualified", now go face your next adventure-
The order from the Guild leads Bell to a new stage.
A faction union is formed to conquer the labyrinth.
Along with the companions he's fought alongside until now, he challenges a new floor, new monsters, and a new "unknown".
Illustrations
Spoilers
Chapter titles are on the volume page
Bell is Level 4 and reached it in around 2 months according to Hestia. His rank up reason was a Level 3 standing up to a Level 7 estimated monster and coming back alive, but as Freya pointed out in volume 4 with the Minotaur, the exilia from his fight with Asterius had a special meaning for him
He has a new skill, Ox Slayer, and a new development ability, Escape. Both are listed on their pages
Asterius was deemed by the Guild to be around Level 7
Ad blocker interference detected!
Wikia is a free-to-use site that makes money from advertising. We have a modified experience for viewers using ad blockers

Wikia is not accessible if you've made further modifications. Remove the custom ad blocker rule(s) and the page will load as expected.